Options & Opportunities for a Non-immigrant worker following Employment termination
Posted On February 14, 2023
As immigrants, we all have to face the harsh reality that we can work or even be allowed to stay in the country only with a valid status/Visa. Considering we all used the pandemic's low-interest rates opportunity to buy homes, cars, and other tangible assets to invest in the place that ties us to the place, we cannot immigrate back immediately to India. Even if that was not the case, we have families here and children studying in schools and colleges which makes it hard to move immediately.
Disclaimer: Check on the USCIS immigration site to verify what suits you well. Please consult an immigration attorney to know what is the best option for you. This is my opinion and not a legal suggestion. I am not a financial advisor and money invested in the stock market is subject to market risks.
First and foremost don't panic or feel sad. It is all about business and has nothing to do with performance. I have known some great Engineers losing their job to this economic downturn.
Find a new employer who can file a work Visa within 60 day grace period: Of course, this is the obvious option but since we are talking about all the possibilities and opportunities, this comes first. You need to apply for jobs and find a new employer before your 60-day grace period in which you can remain unemployed on a work Visa. You don't need the approval within this time, you just need an H1/L1/E1 application filed before 60 days. If you have a good professional network, you don't have to search for jobs but jobs come to your inbox so check out the below opportunities: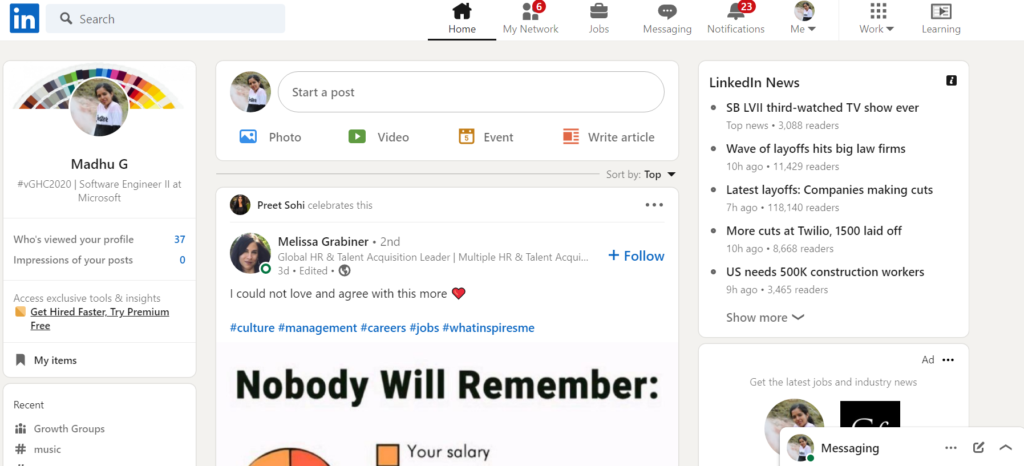 Make LinkedIn your only social media app: Yup, this is going give you a boost to switch(find) jobs with a wide variety of choices. I have found almost all of my jobs through LinkedIn and I always keep it updated so I am always market ready. You can join my network and find my recruiters who can help you out(No soliciting, not a paid promotion).
Use the company's resources to find your next job: Connect with your company's network/groups, join their LinkedIn networks to grow yours, and see if a team within your company is hiring. Multi-national companies have teams that can have job openings in different countries that can hire you to work remotely, and join it even if it's a downgrade to your job. You can switch once the job market regains its lost pace.
Find a job on a freelancing site(maybe your next employer is waiting for you): Check this post to see where you can find a freelancing job and maybe your potential next employer. Many companies also search for good employees on these sites and can be considerate enough to file your H1 here. Beware of scams though.
Join as a consultant: You can work as a contractor for a consultancy that is ready to sponsor your H1 instead of the company itself. Consultancies can be employers who find you a job and take a portion of your paycheck for this. They might have a broader reach to companies that are non-tech but still need techies to work for them.
Change of Status: You can change from H1, L1, and E1 work visas to H4/H4 EAD/F1 status depending on your marital status. If you are married and your spouse is working then you can change your status to H4 and if your spouse has their immigration petition filed(I-140 approved) it gives you a chance to work in whatever area you like as you can get EAD on H4. But if you don't have that option change to F1 status which allows you to stay in the country.
Change to a Business/tourism visa: This allows you to extend your stay in the country by 6 more months, try and find a job and convert back to a work visa. Make sure you do this before your grace period ends.
Move back to the country with good severance and relocation package: This is your last resort. If nothing works, get the best out of the deal and move back to your home country. You don't need to worry about immigration and still find a decent job along with the money you got as a head-start from the company here. Invest in good stocks and rethink what you want to work on. It might give you a breather to the most of your life. I know many people who felt happy that they got fired and had a chance to discover themselves. Be the "half-glass-full kind of guy/girl". Check this post. It is such a positive post in this time of turmoil.
Resources: Check this link for more info from the USCIS itself.
About The Author
madhuri